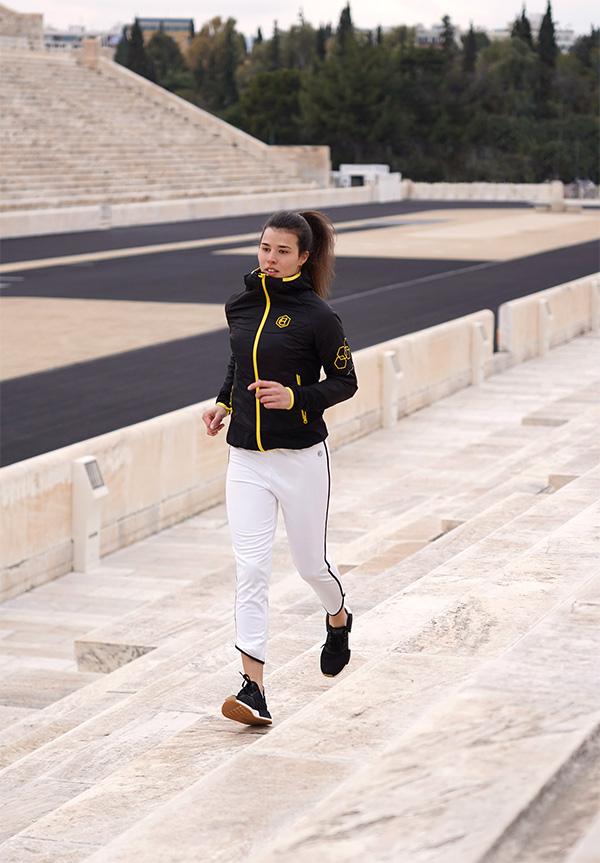 I have been a runner my whole life. My body has weathered hamstring tears, achilles pain, pulled calf muscles, weather and more. Yet, I still keep coming back. Back to find the feeling of propelling myself through scenery— sometimes to the soundtrack of nature, and other times to the soundtrack of tunes that forever get connected to that particular time and route.
There has always been a view to record in my runner's eye: By water, up and over mountains in my backyard, and wherever I travel, running is my friend and my competition all in one. It is my litmus test for how I am doing mentally and physically. Somewhere along the way, the pace slowed, the pavement became primarily the softer ground of trail, and, try as I might, my stride just stopped feeling like I had wings, and more like a battle of gravity, and an ever-tightening soaz.
So, forever the stubborn optimist, I tried a plant-based diet, took out all substances, and put more stretching, and more water into my routine. I felt better. People said I looked better. But, that feeling of limitless energy to place the next step and push off, to finish bolting strong, or the simple ecstasy of hitting a stride and rhythm of breath and movement synchronized had gone.
I was seeking solutions at 50 years old to feel decades younger when I was introduced to George and Ermis Psipsikas of Nanobionic Smart Clothes and Technologies. They are two athletes from Greece who wanted to improve their performance and recovery, and wound up visionaries in the field of wellness wear. Their proprietary coating has been awarded by NASA, and is FDA general wellness certified, as it activates infrared with just the body's heat, and is scientifically proven to increase blood flow thereby optimizing energy both in action and rest. The Nanobionic coating reduces cellulite, improves sleep, helps with anxiety, improves circulation, even for those with Raynauds, and enhances overall performance and recovery.
I was fortunate to get to create the LIVBionic apparel line using this healing tech. I noticed immediately my hands didn't go numb on cold nights or in water, my yoga poses were more balanced and flexible, and yes, with Strava to back my claims, my mile time is getting faster by up to a minute per! I feel like I have a spring in my step again, and I don't have to say goodbye to my favorite companion—the sound of the earth beneath my feet as I use my body's energy to cover ground. With LIVBionic, I have gone from feeling like I am running on empty to having fuel and freedom of movement to spare. My love of running was part of the inspiration for my Cocoon and Hive Nanobionic Running Tights and I hope they help see you achieve your goals as they have me with mine. I still aim for 100 percent unprocessed food and no substances.
I still vow to drink more water. Some days I get an A. Some days I don't, but I easily throw on my jacket, tank and leggings, and know I have done one thing right towards my wellness that day—no matter what. So, even if I am pushing myself for more mileage, or just heading to the grocery(pushing a grocery cart), it feels like a runner's high!