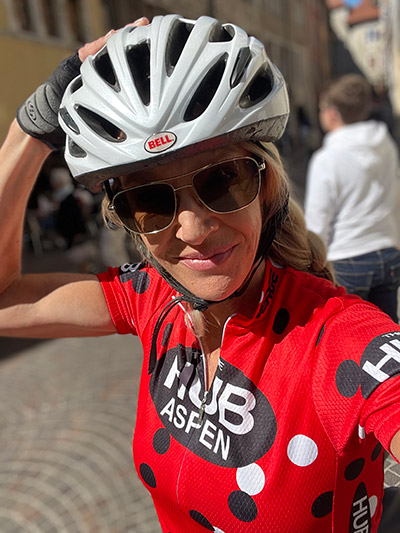 "Balance" is a buzzword: a term to strive for, a state to claim with pride, a badge of honor and personal mantra. Example- "I was working so hard, I was like a chicken with my head cut off. But now, I find balance, and feel at peace with getting less done, working smarter, holding on to what matters most more. It is a balance!" I personally hear "balance" these days, and picture myself as Lucille Ball with a conveyor belt of chocolates, or a commercial for a run-away treadmill complete with a personal trainer.
I think when everything slowed down in 2020, I enjoyed the silence in our atmosphere, and less pressure to do anything. Now we have sped back up, and the world is like the beach that erodes even more past a jetty built to protect it. I am like the deer that got used to crossing the road without looking both ways, and now stands shocked and trusting in the headlights that are strange yet vaguely familiar. I say, "I am more careful after this pause to not take on too much, have boundaries, say no," but, the truth is, I am overwhelmed by the constant spew of information, and new line-up of financial hurdles, all seemingly higher and coming faster than before. I question if I have permanently lost my ability to process quickly enough to make it in this new world order.
People ask me, "How do you do it all?" The answer is— "I don't." Every accomplishment requires devotion, intention and focus. So, for every accomplishment, there is another area left untended, like an unweeded garden: a child who gets picked up late at school, a dog left in the crate too long, a painting unfinished, work emails unsent, or just a monumental pile of laundry staring, taunting, "WASH MEEEE YOU ARE LIVING LIKE A SLOTHHHH, A CHILD. WHY ARE THE NORMAL TASKS SO EASY FOR OTHERS AND SO HARD FOR YOUUUU." I am finding that my path to any sort of balance involves recognizing that peace has to be nurtured and recognized on the inside, so that I don't go into the fetal position when life seems too much. The days that are smooth sailing are gifts, and  don't come around all the time. It is also a gift to create a self-imposed pause.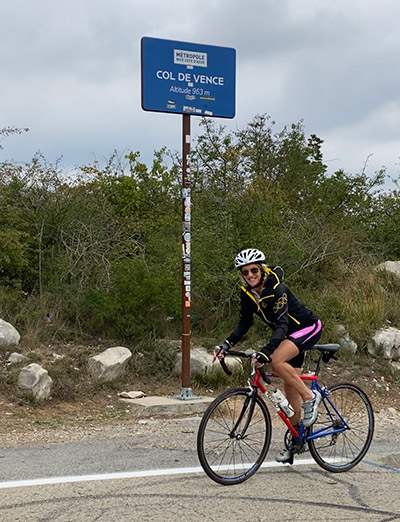 I chose a recent get-away to France for a trip that was, not work-related, just a good old fashioned vacation.  I need these shifts in perspective, to get away from patterns in order to look inside at what is working and what needs work. France is a country I love, a language I speak, and a place I even called home for a short time many years ago. But this round, I headed there with a bicycle. Carving 10 days out of the mêlée that is life, I got to exchange the whir of my day- to- day for the whir of tires spinning like a miracle machine through mountains and fields, by cathedrals, castles, lakes and waterfalls.
A bicycle is a beautiful feat of design and engineering. I marvel at where a bicycle can go in the same way skis astound as they float over snow and hold strong on steep angles. With a few training rides in Aspen and a Ritchey break-away bike that packs neatly into a suitcase, my friend, who is an accomplished cyclist, and I headed to France. One can smell the history from the perch of a bicycle seat, pedaling immersed in sights and sounds of layers of time. Going uphill on steep grades gives time to notice the details, ponder the atrocities of WWII, the beauty and proof of human spirit. On the blistering downhills, everything shuts off but the drive to choose movements wisely.
These villages went through "hell and highwater." Somehow riding slows down the information and makes it real again. My friend calls it, "more exploratory." Information surges these days at breakneck and thumb-to-screen speed.  There is a peace and solace in making contact with what is alive and really happening in our world of constant news and social media blending furiously into one digital, desensitized mass. Days were spent fueling with bread and cheese, riding above Annecy and Vence, pushing limits as a novice cyclist, and leaving me hooked for life on this sport. I watch the tire in front of me intently, spinning in and out of the seat, climbing up as much as 4k and 40 miles at a time. I exclaim about wind chimes that my friends hoot in laughter to point out are cows. My senses are heightened. I smell farmlands and grasses and one very cold, distinct, wet, verdant forest that left us shaking so hard on the freezing downhill, I thought I might rattle off my bike. I sing "Here Comes the Sun " at the top of my lungs as I keep my fearless leader's red shoes in sight and use him as a gauge for slope and obstacles ahead. It took me 2 days to warm up and I stil would do it again.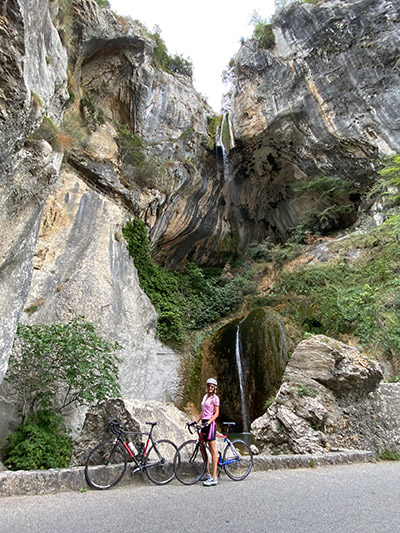 There was very little time to think about much more than the fantastic feeling of latching onto the tire in front of me and staying in sync with other riders leading me on a beginner cyclist's tour of a lifetime. The trust required to cycle at this pace is startling. Why does my  brain quiet, my nervous system calm, my balance improve when going as fast as possible and pushing my body/mind coordination to such limits? I get it that I am an adrenaline junkie, but as I get older I think this motivation to push shifts from an escape to something far more healing and personal. It is true that pushing physically feels good and aids getting past fear and into flow—alert, present.
Being a beginner at something is a joy. Releasing expectations and preconceived notions, and getting in touch with the innate drive to survive. I strive to find this calm and awareness even when sitting still, doing nothing, staring without guilt at the grass or pile of laundry grow. Just being ok with the normal day-in, day-out, the sound of inhale and exhale, noticing and letting go of the little words that pop up and spin, breathing out with mantras that cue the brain to drop its iron grip.
When things get overwhelming, approach life as a beginner, tap into that balance on the inside that makes the amazing feat of engineering and spirit that is the human being able to find its way past life's potholes and temperature changes, and on to the great success of just taking each day in with all our senses on a grateful high alert.  And yes, I must add I was wearing my LIVBionic jacket in Global Black which saved me from hypothermia on the downhill, because I continue, as we all do in this spinning world, to multitask, to support my family, and life here in Aspen, even now as I strive not for an ACT of balance but to BE present sitting here, typing these thoughts, feeling the sun come through as a few raindrops land on my keyboard, eating my lunch off a rickety folding chair, watching my puppy chew a bone, and waiting for my son to send his tennis match results.
I am carving a little bit of balance out of the universal trove of time so that I can watch his next one in person, staying alert and taking the moment in with all my senses.